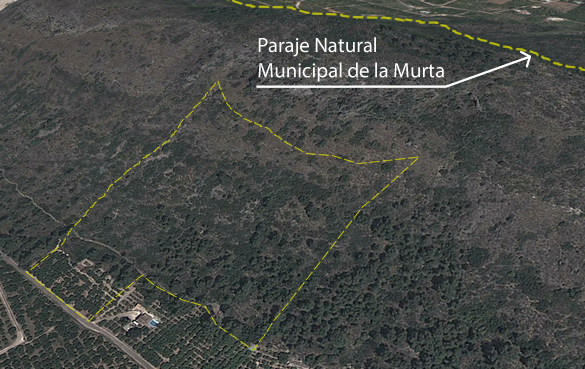 The plot is situated on the hillside of the Valle de la Casella, between the ranges of la Murta, el Cavall y Les Agulles. This valley is characterized by its spectacular mountainous relief where mountain peaks alternate with hidden plateaus. As well as its attractive landscapes and the impressive views of the coast and the interior, there are numerous springs and the deer reserve, with more than ten specimens, which always attract the attention of the children.
To widen the area of protected natural spaces, Fundem has taken into account its proximity to another protected space: theParaje Natural Municipal "La Murta y la Casella", designated in 2004 and having a total area of 765.64 hectares, situated to the south-east of the boundary of Alzira. Its designation as a Municipal Nature Reserve was an historical concession by the people of Alzira, who have always felt very close to this area of land, considered to be an area of high environmental interest, with natural, scenic and cultural-archaeological values of similar importance, from which we can derive educational and recreational potential both now and in the future, making it worthy of protection and conservation.
The area is one of the emblems of Valencian geography, especially in respect of its flora. It is subject to a very favourable microclimate, with mild temperatures and high humidity. Its high scenic value is obvious with its abrupt mountain ranges which flank fertile valleys, as well as with its intense Karst topology, which gives rise to the presence of numerous potholes and caves, making it a landscape of great beauty that contrasts with the coastal plains and the valley of the river Xúquer. The diversity of the fauna of the area has increased in recent years with the increase in the density of the vegetation in the 750 hectares or more that make up the natural space.
One important piece of information is that the area forms part of the LIC "Serra de Corbera" and adds to this its high natural values, which are centred mainly on botanical diversity, given that there are about 100 plant species that have been identified in its boundaries.
Cadastral data:
| | | | | | | |
| --- | --- | --- | --- | --- | --- | --- |
| Zone: | Date land registry: | Value € | Area: | Pol: | Plot: | Land registry reference: |
| La Casella | 18/06/2013 | 16.000 € | 33.153 m2 | 55 | 541 | 46017A055005410000IU |
Location: